Your excellent accommodation next to Oulu
Stay easily and effortlessly in Kempele! From Pohjankievari, located in a quiet area, you can drive to Oulu or the airport in ten minutes.
Family Hotel Pohjankievari has numerous single and double rooms, one family room and five apartments. Located in the same yard, our apartment hotel Kievarinhovi offers high-quality accommodation.
In the evening, you can order dishes and drinks from our restaurant. We have two meeting rooms, the larger of which is suitable for up to a hundred guests. In our parking area you will find heating outlets and there is also enough space for larger vehicles.
You are warmly welcome!
You will have access to your room at 15:30 on the day of arrival. Check-out by 12 noon on the day of departure. The price of the hotel room includes breakfast, internet access, evening sauna and car parking. There is also a private room with a communal fridge, freezer, coffee maker and microwave, as well as ironing facilities.
The sauna is heated daily:
From Sunday to Thursday there is a general shift from 18:00 to 22:00 – women can book their own 30-minute shift .


From Friday to Saturday, from 18:00 to 22:00, odd hours are men's and even-numbered hours are women's.
Breakfast is served from 05:45 to 09:00 on weekdays and from 08:00 to 10:00 on weekends and public holidays. If necessary, you can also serve an early breakfast on your own: please place your order no later than the day before your arrival. At the same notice, you can ask for a crib (10 € / night) or an extra bed (25 € / night) in your room.
You can also stay with your pet if you inform us in advance. For pets we charge an additional fee of 15 € / room / stay. Thank you for taking our other guests into consideration as well!
The rooms have a private toilet and shower, flat-screen TV, work desk and fridge.


The rooms have a private toilet and shower, a flat-screen TV, a work desk and, in some rooms, a refrigerator.


The family room has a double bed and two single beds, private toilet, shower, hairdryer, flat-screen TV, work desk, microwave and fridge.


Apartment for four guests
The apartment has a private toilet and shower, hairdryer, flat-screen TV and kitchen.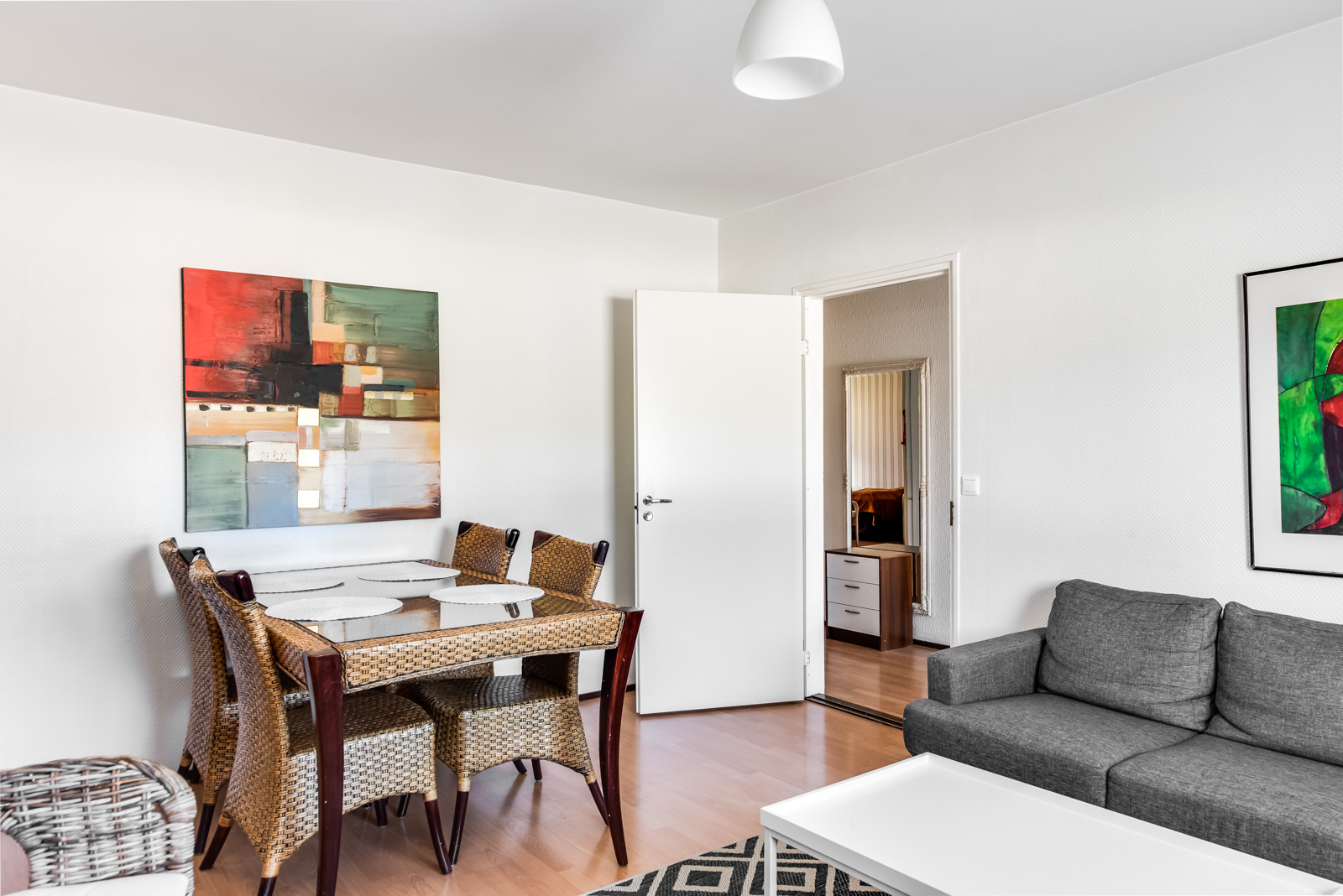 The six-bed apartment is equipped with toilet and shower, hairdryer, flat-screen TV, work desk, microwave, coffee maker and fridge. One of the apartments also has a kitchen and is suitable for accommodation for seven guests for an extra charge of 25 euros.